Headstring News
Mika U.S Open Champion... Again
Oct 28, 2009, 11:30 AM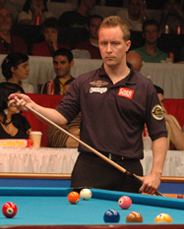 Immonen (above) outlasted Souquet to capture his second U.S. Open crown.
.
CHESAPEAKE, Va. -- Move over, Nick Varner, you've got company.

For only the second time in the 34-year history of the U.S. Open 9-Ball Championships, a player has won back-to-back titles. Mika Immonen topped Ralf Souquet in the final, 13-10, to cap off an astonishing run through the left side after an early loss. In total, Immonen won 15 matches, more than any other previous champion.

While last year's victory went toward exorcising the demons left by a 11-0 whitewash in the 2001 final at the hands of Corey Deuel, the 2009 title represented validation to the Finn superstar.

"I don't know if I can compare it to last year, really," Immonen said moments after sinking the final 9 ball. "It was definitely harder, I know that. And I think that might make it more special for me."

During his marathon march through the one-loss side, Immonen had plenty of brushes with elimination. He trailed Scott Higgins, 8-2, in the race-to-11 format, only to come back and win, 11-8. He then faced a 8-5 deficit to Lee Vann Corteza, only to collect the next six racks for an 11-8 victory. Even in the left-side final, Immonen was in his seat in the case game as Donnie Mills broke open the deciding rack. When Mills sent the cue ball off the side rail and into the side pocket, Immonen made the most of his opportunity and cleared the table to advance to the final.

Opposite Ralf Souquet, himself an earlier winner of the U.S. Open back in 2002, Immonen gave the German a number of chances early in the match. He missed two nearly straight-in shots in the first few racks, and Souquet jumped out to a 7-4 lead.

From there, though, Immonen pulled himself together to make one final comeback. He quickly erased the three-game deficit and pulled ahead 10-7. Souquet made a brief comeback of his own, knotting the match at 10 games apiece. But that would be it for the Kaiser. Immonen won a safety battle to get a one-game lead and got on the hill when Souquet scratched in the next game. Immonen then broke and pocketed a 1-9 combination for the title.

The back-to-back winner fell to the ground with the title-clincher, only a few feet from Varner, who was the first (and only, until this year) player to win consecutive titles, which he did with a pair of victories in 1989 and 1990.

Signing autographs in the middle of the arena, Immonen struggled to put his feat into perspective.

"This is not real," he said. "This is completely not real."