Headstring News
Mosconi Cup Rosters Fill Out
Oct 29, 2009, 7:29 AM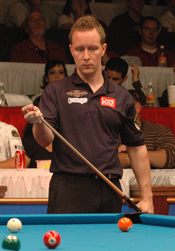 Immonen was a near-guaranteed choice after last week's win at the U.S. Open.
In the wake of this year's U.S. Open, as the players returned to their homes across the world after eight days of action in Chesapeake, Va., the rosters for this year's Mosconi Cup have started to fill out.

First, Team Europe, winners of two consecutive Cups, filled its final two slots. U.S. Open champ Mika Immonen and China Open winner Thorsten Hohmann will join Ralf Souquet, Niels Feijen and Darren Appleton to form what just might be the most impressive team in the Mosconi Cup's 16-year history.

The European squad is packed with players who have collected an impressive list of titles in the last 18 months. On top of his back-to-back U.S. Open titles, Immonen has won the Galveston World Classic in 10-ball, finished runner-up at the World 14.1 Championship, and just this week won the International Challenge of Champions. Add this to Appleton being the reigning World 10-Ball king and Souquet's World 8-Ball crown in 2008, and the Americans are facing a tough test at this year's competition — set for the MGM Grand in Las Vegas on Dec. 10-13.

As for the Americans, who look to win the Cup outright for the first time since 2005, they will be led by Johnny Archer, eight-time winner of the transatlantic tilt. During Archer's BCA Hall of Fame induction ceremony at the U.S. Open, Matchroom Sport chairman Barry Hearn announced that the 40-year-old would be the first player named to Team USA.

Two other players appeared to have gained entry into the contest via the BCA rankings. Oscar Dominguez and Corey Deuel are the top-ranked Americans on the points list. While no official word has come from Matchroom Sport, the two look set to represent the U.S.

While Deuel has made five appearances on Team USA, Dominguez will be representing his country for the first time. The 24-year-old Californian has had a number of top finishes this year, including a win at August's Turning Stone Classic.

Matchroom Sport is set to announce a wild-card selection as the fourth member of Team USA. At that point, the final spot on the roster will be filled by an online poll at www.matchroomsport.com .