Headstring News
Mosconi Cup: Varner to Lead USA
Nov 4, 2009, 4:09 PM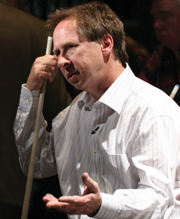 Varner will look to recapture the magic that led the Americans to a thrilling comeback in 2003.
Nick Varner will get his shot at redemption at the Mosconi Cup. The captain of last year's 11-5 drubbing at the hands of a stacked European team, the 61-year-old Hall of Famer will captain the American team as it looks to win the Cup outright for the first time since 2005.

Varner will be in search of his fifth Mosconi Cup, including events as a player and captain. While the Europeans will be the heavy favorites at this year's battle — set for Dec. 10-13 at the MGM Grand in Las Vegas — Varner is looking to make the most of the home-field advantage.

"I am very excited to be once again representing the USA in the Mosconi Cup this year," said Varner. "What a great team we have, and I am proud to be a part of it once again.

"After last year, we are more determined than ever to keep the Cup here, and when we are done with them Team Europe they will have one long trip home, empty handed."

Varner will lead a relatively young American squad. Veterans Johnny Archer and Corey Deuel have played in a combined 18 events, but Shane Van Boening has only made two appareances. Plus, BCA points leader Oscar Dominguez will be making his debut at this year's event.

The remaining American player will be announced on Monday, Nov. 16, at the conclusion of the "Mosconi Cup Idol" vote which is currently taking place at www.matchroompool.com, the official site of Maatchroom Sport.