Headstring News
Morris Leads in Mosconi Cup Voting
Nov 9, 2009, 11:47 AM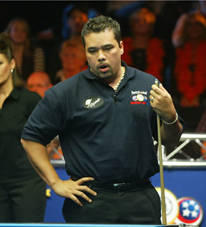 Morris has appeared in every Mosconi Cup since 2003, a streak that looks to stay in tact. (Photo by Lawrence Lustig)
With a demonstrative table manner and almost ever-present smile, Rodney Morris has always been a popular player among fans. And it looks like that is going to pay off.

A week into the "Mosconi Cup Idol" competition, a two-week long online election to select the American's fifth team member for next month's competition, Morris holds a commanding lead in popular support. According the Matchroom's official Web site (www.matchroompool.com), Morris' lead is near double digits. The breakdown for the eight contestants (in total percentage of votes cast) is as follows:

Rodney Morris 27.71
Charlie Williams 19.23
Dennis Hatch 13.25
Charlie Bryant 12.28
John Schmidt 10.63
Stevie Moore 9.17
Shawn Putnam 4.03
Kim Davenport 3.70

From the early numbers, it appears experience pays off. Morris has made a total of six appearances in the team competition, while Charlie Williams has totaled five appearances. The two were on the 2005 squad that stands as the last American team to win the Cup outright.

Voting will continue through next weekend, with the winner being announced Monday, Nov. 16.