Headstring News
Day Two at Women's World 9-Ball
Nov 19, 2009, 11:36 AM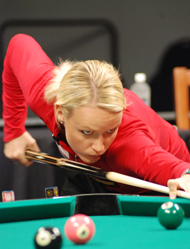 Ouschan advanced without much difficulty. (Photo by Anne Craig)
So far, the Women's World 9-Ball Championship is progressing as expected, with the world's best avoiding early upsets in the 64-player field.

Held at Shenyang Jianzhu University in Shenyang, China, the world championship event is in the middle of group play, which has eight groups of eight, with four women from each flight advancing to single-elimination.

Jasmin Ouschan, a week removed from winning the WPBA Tour Championship (her third Classic Tour title of the year), rolled through her first two opponents — Lyndall Hulley, 7-3, and Nicole Keeney, 7-2 — for a spot in the round of 32. Joining the Austrian star, Xiaoting Pan, who played runner-up to Ouschan at two of the WPBA finals, also made it through group play unscathed.

Half the field will be eliminated by Friday, when the knock-out phase will begin. Live internet streaming of the event can be found at www.my147.com, and the brackets are at www.wpa-pool.com.