Headstring News
Liu Wins Women's World 9B Title
Nov 24, 2009, 2:04 PM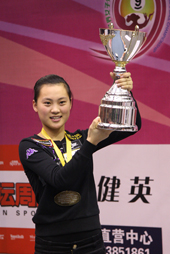 Liu strung together five racks during a tremendous eight-game winning streak. (Photo by Michael Neumann)
Just 16 years old, Liu Shasha of China was by no means the favorite when she entered the semifinal round at the Kappa Women's World 9-Ball Championship this past weekend. Facing WPBA star Xiaoting Pan, Liu managed to escape her match with China's biggest cue-wielding star with a 9-8 victory.

But things hardly got easier at that point. In the final, Liu faced Karen Corr, who had edged Fu Xiofang by the same 9-8 score in the other semifinal. Corr looked to be in full control of the match, grabbing a 5-1 lead while the teenager struggled to find a sense of comfort at the table.

But when Liu took a rack to close the gap to 5-2, she turned from a lost-in-the-moment teenager to a soon-to-be-world champion. Liu then broke and ran the next five racks to grab a 7-5 lead. After winning a safety battle in the next rack to climb on the hill, Liu buried four balls on her break. She cleared the final five balls for her first world championship.