Headstring News
Mosconi Cup: US Dominant on Day 1
Dec 11, 2009, 8:12 AM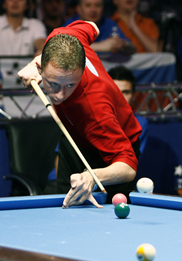 Van Boening (above) throttled Immonen in the first singles match-up of this year's Mosconi Cup. (Photo by Lawrence Lustig)
One day into the 2009 Mosconi Cup, the Americans look nothing like the underdogs that the odds-makers pegged them for. Five matches in, Team USA owns a 4-1 lead, barely missing out on a chance to blank the reigning champions from Europe.

After taking the first four matches — a team competition, two doubles sets and a one-on-one match — the two captains — Alex Lely for Europe and Nick Varner for the U.S. — could choose the competitor from the opposing team. Lely selected Oscar Dominguez, the 24-year-old Mosconi Cup rookie, and Varner countered with Ralf Souquet. The German jumped out to an early 3-0 lead in the race-to-6 match, before the young Californian knotted the set at 3-3. Souquet was the first on the hill, 5-3, but again Dominguez fought back to force a case game.

He then dropped a ball on his break, but erred on the 4 ball. From there, Souquet cleared the table to take Europe's only point of the day.

The opening set of this year's transatlantic competition, running through Sunday at the MGM Grand in Las Vegas, matched the two squads in a full-team race to 6. The Americans started slow, as Europe jumped out to a 3-1 lead. From there, though, Team USA caught fire, collecting five of the next six to take the Cup's first point.

Next up, Johnny Archer and Dennis Hatch, in his Mosconi Cup debut, escaped a fierce rally from Niels Feijen and Darren Appleton. Up 5-3, the Americans watched as the Europeans took the next two racks. But Team USA got out from the break in the case game to take a 2-0 lead.

"This win takes a lot of pressure off of us and puts a lot of pressure on the Europeans," Hatch said. "We're the underdogs and have nothing to lose."

In the first one-on-one set, America's Shane Van Boening faced the unquestioned hottest player on the planet, U.S. Open and World 10-Ball Champion Mika Immonen. The pair flawlessly carved up the first four racks, each taking two. But Van Boening proved to be the sharper player. The 2007 Player of the Year punished Immonen for an errant shot and illegal break and took the set, 6-3.

The pair of Corey Deuel and Dominguez then handled Thorsten Hohmann and Souquet, 6-2, to grab a 3-0 lead over a stunned Team Europe. Souquet's point may be a rallying point for the Europeans, but the day could not have gone much better for the Americans, who can hardly be considered underdogs after Day 1.