Headstring News
Redeem Team Brings Mosconi Cup Back to U.S.
Dec 14, 2009, 8:30 AM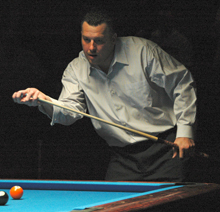 Hatch won two of three in doubles play and a pair of singles matches to earn MVP honors.
It was an unusual spot for Team USA. Dominant for the first 12 years of the Mosconi Cup, the American squad found itself a 2-to-1 underdog at the start of the 2009 Mosconi Cup in Las Vegas.

Understandable, actually, considering Team Europe's world championship lineup — a fivesome of former or current world titleholders headed by Mika Immonen and Ralf Souquet, ranked No. 1 and No. 2 in the world, respectively, and followed by Niels Feijen, Darren Appleton and Thorsten Hohmann.

The U.S., meanwhile, came into the event with first-time players Oscar Dominguez and fans' choice nominee Dennis Hatch, along with Corey Deuel, Shane Van Boening and Cup mainstay Johnny Archer.

So when Van Boening fired in the final 9 ball to top Souquet, 6-2, and give Team USA an unlikely 11-7 victory, the American quintet piled into the television arena like first-time winners, sharing bear hugs and tears after recapturing a Cup they last won outright in 2005.

"This is the best team and most gratifying win I've experienced," said Archer, who played on his fair share of Cup winners.

"There was no negativity at all this year," Archer said, in reference to the absence of Earl Strickland from the U.S. squad for the first time in 13 years. "We were so focused as a team. It was a joy."

That joy seemed inevitable when Team USA entered the final day with a commanding 9-5 lead. Team Europe stole some momentum in the opening match when Souquet bested Van Boening, 6-3. Team USA responded in the most emphatic way, with Hatch, the team's emotional leader, playing his best match in a 6-0 drubbing of Niels Feijen. Hatch stormed around the table like a boxer stalking a wounded opponent, lifting the crowd and his teammates to the hill.

Hohmann kept Team Europe on life support with a surprisingly easy 6-1 win over Archer, but Van Boening played a brilliant match (aided by some shabby safety play by Souquet) to nail down the victory.

"Nothing compares to this feeling," said a teary-eyed Hatch, named the event's MVP. "To win for and with your teammates is the best experience of my life."