Headstring News
World 9-Ball Event Set for 2010
Dec 28, 2009, 11:50 AM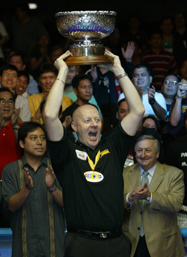 Peach (above) won the last WPA 9-ball title in November 2007. (Photo by Lawrence Lustig)
When it came to world championship events sanctioned by the World Pool-Billiard Association, 2009 wasn't exactly a stellar year. The World 8-Ball Championship was canceled and placed on hold indefinitely; the World 14.1 Championship went without WPA sanctioning; and the World 9-Ball Championship continued to be without a date and location since 2007.

But there may be a glimmer of hope for 2010. The WPA announced on Dec. 28 that the World 9-Ball Championship will be held in the new year. The WPA-sanctioned event is set to take place in Doha, Qatar, from June 28-July 5.

The first WPA-sanctioned 9-ball world championship since November 2007, the 2010 event will be the third big-money event held in the capital of Qatar. The previous two events — dubbed the Qatar Open — attracted world-class fields and boasted six-figure purses, but were not considered world championship events.