Headstring News
World Pool Masters to Expand Field
Jan 18, 2010, 2:36 PM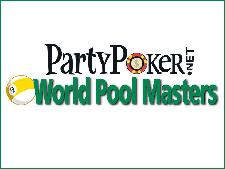 One of the longest-running professional pool tournaments, the World Pool Masters will undergo quite a facelift in 2010. The Matchroom Sport-produced event, which has been a 16-player invitational tournament since its debut in 1994, will quadruple in size, with the field expanding to 64 players.

With the enlarged field, 32 players will be invited while the other half will be determined by a world-wide set of qualifiers. The event — scheduled for May 12-16 at the Riviera Hotel & Casino in Las Vegas — will run alongside the BCA Pool Leagues National 8-Ball Championships, the amateur event that attracts thousands of players to Sin City.

According to Matchroom's Barry Hearn, the changes are designed to enhance the World Pool Masters to something with much more global significance.

"It is my every intention to build the World Pool Masters up into an even comparable to the World [Pool] Championship when Matchroom Sport produced it from 1999-2007," Hearnd said.

While the Masters event was a mainstay on the tournament calendar for nearly two decades, the limited field kept it from developing into a tournament comparable to world championship events. Doubling the field and increasing the prize fund (to $100,000 in 2010 from $66,000 in 2009) will raise the profile of the event in its 17th year.

The BCAPL National Championships has hosted a pair of professional tournaments in recent years, with the World Pool Masters and Predator International 10-Ball Championship running on successive weekends. This year, however, the Predator event has been replaced by the U.S. Open 10-Ball Championship, set for weekend after the World Pool Masters. Promoted by CueSports International, the promotions firm headed by BCAPL honcho Mark Griffin, the U.S. Open 10-Ball event — unrelated to Barry Behrman's U.S. Open 9-Ball Championship — will be making it's debut May 17-22.