Headstring News
World Team Event Down to 16
Feb 3, 2010, 4:29 PM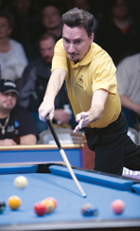 Archer is fresh of wins at the Mosconi Cup and Turning Stone Classic.
The World Team Championship, which kicked off with squads from 42 nations, has filled the single-elimination 16-team bracket that will lead to a champion being crowned on Sunday.

The Americans, one of the favorites after a stunning performance at the Mosconi Cup, will begin play in the knockout phase against the team from Greece. Led by Johnny Archer, the U.S. boasts four-fifths of the team that upset the Europeans at the '09 Mosconi Cup, with Shane Van Boening, Corey Deuel and Oscar Dominguez finalizing the Americans' roster.

While other heavy-hitters are spread throughout the bracket, the U.S. will avoid other top teams like the Philippines, Germany and Great Britain until the semifinal round at the earliest. Should the Americans defeat Greece, they will face either Switzerland or Japan in the quarterfinals.

The World Team Championship — a WPA-sanctioned event that has created its share of rumors surrounding the advertised $400,000 prize fund — is an event that pits teams against one another in a variety of disciplines. Each match consists of two scotch-doubles matches in 8-ball (races to 6), two singles matches in 9-ball (races to 8), and two singles matches in 10-ball (races to 7).

Check www.wpapoolonline.com for updates brackets and live scores.