Headstring News
World Team Cup: Greece Upsets U.S.
Feb 5, 2010, 1:44 PM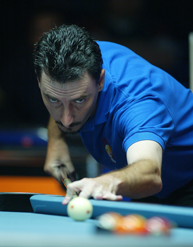 Heroic in the final match, Archer couldn't get the U.S. through the shootout.
In the first round of the single-elimination bracket at the WPA World Team Championships, the Americans faced a surprisingly furious challenge from the unheralded squad from Greece. And in the sudden death shootout, the U.S. team finally gave out.

Each match, a combination of singles and doubles play in 8-ball, 9-ball and 10-ball, consists of six sets, with a sudden death shootout deciding the match if teams split the sets evenly.

Through the two rounds of scotch doubles 8-ball and singles 9-ball, the Greek team held a commanding 3-1 lead. But the Americans had Shane Van Boening and Johnny Archer lined up for the two sets of 10-ball. While Van Boening won his match with relative ease, Archer faced Evangelos Vettas in a thrilling race to 7. The American Hall of Famer overcame an early deficit to get on the hill, 6-5, only to see Vettas force a decisive case game. But Archer, with a miraculous cut on the 2 ball, cleared the rack to force the shootout.

The unique shootout format calls for each player to approach the same shot (the 8 ball one diamond off the foot rail and the cue ball two diamonds off head rail), with the race to 6, win by two. Greece and the U.S. traded shots back and forth, without one team able to get a two-shot advantage. But finally, the Greek squad took the match, finishing off the upset of the Americans, 13-11.

With quarterfinal matches underway, Poland is keeping close to the Philippines; Great Britain trails the strong Chinese team; Russia holds a small lead over Germany; and the Greeks have already moved into the final four with a thrashing of the surprising Swiss team.