Headstring News
Down to 32 at Amway Cup
Mar 5, 2010, 8:06 AM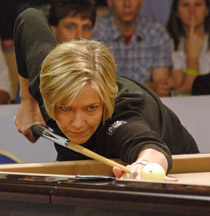 Fisher advanced to the final bracket without much difficulty.
The Amway Women's World 9-Ball Open, the first major event for the women in 2010, has finished its group stages. The tournament, held in Taipei, Taiwan, began with 48 women drawn into six groups of eight players, but only the top 32 will advance to Saturday, when the format will switch single-elimination play.

Not surprisingly, Allison Fisher leads the way, posting a 4-1 record to advance without difficulty. She suffered her only loss to Taiwan's Tsai Pei Chen, winner of last year's China Open. Reigning champion Chou Cheih-Yu also advanced with a 4-1 record, though she had to brave two hill-hill matches and another 7-5 win over Julie Kelly.

Stars like Ga Young Kim, Jasmin Ouschan, Xiaoting Pan and Kelly Fisher will also be in the field of 32 when knockout play begins on Saturday.