Headstring News
Cheers! Yu Ram Cha Wins Amway Cup
Mar 9, 2010, 3:26 PM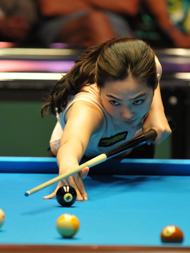 Cha came back from early deficits in her final three matches. (Photo by JP Parmentier)
Ever since Yu Ram Cha made an impressive run to the semifinal round at the 2008 WPBA U.S. Open, just her third event on the women's pro tour, the 22-year-old Korean has been among the most active players in the world. Mixing regional tours with international tournaments (both men's and women's), Cha continued to develop as a dedicated student of the game.

After her first major event of 2010, it appears the education of Yu Ram Cha may have entered a masters program. At the Amway Women's World 9-Ball Open, Cha ran undefeated through a strong field of 48, including a host of the WPBA's best, to win her first international title.

With the field drawn into eight groups of six players, Cha advanced as only one of two undefeated players into the single-elimination round. (China's Yu Han also survived unscathed.) Getting a bye into the round of 16, Cha coasted past China's Xue Chen, who earned entry into the field through a pre-event qualifier.

In the semifinal, Cha faced former world No. 1 Vivian Villarreal. From the start, "The Texas Tornado" blew past Cha, grabbing a 7-3 lead in the race to 9. But Cha responded by taking the next five games to get on the hill, 8-7. Villarreal knotted the set at eight apiece, but Cha took the case game to polish off an extraordinary comeback.

In the semifinal, Cha again raised her degree of difficulty by falling behind early, this time by a count of 5-1 to Taiwan's Chang Shu-Han, who earned her spot on the Classic Tour by winning the WPBA Regional Tour Championship the previous week. But Cha responded by taking eight of nine to close out the set, 9-6.

In the other semifinal, Ga Young Kim trounced Chen Si Meng, 9-2, to advance to her third Amway Cup final (finishing second in both 2005 and 2008). But Kim couldn't break her second-place streak. In an extended race to 11, Cha rallied from a 3-1 deficit by taking the next six racks. She got on the hill, 10-4, and polished off the title, 11-5.

Cha took home $20,000 for the most significant title of her young career, while Kim pocketed $10,000 for second.