Headstring News
Oh Momma! Jeanette Lee Pregnant
Mar 10, 2010, 5:36 PM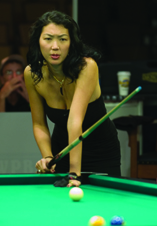 Lee announced the news as she headed to the WPBA's first event in San Diego. (Photo by Carla Bonner)
For Jeanette Lee and George Breedlove, at least when it comes to family, the more the merrier!

Pool's highest profile couple has announced that Lee is expecting the family's sixth child in the fall. The next member of the family will be the first to be delivered by natural-birth. The news comes just months after Lee and Breedlove welcomed their first biological child, Chloe Angelee Breedlove, born to a surrogate in October.

"George and I are so excited to welcome another child to our growing family," Lee said. "This is really a wonderful surprise for us. Nothing gives me greater joy than being a mom."

Lee and Breedlove are also parents of an adopted child, Cheyenne; a foster child, John Kang; and two daughters from Breedlove's previous marriage, Morgan and Olivia.

"I am so glad that they have been blessed with the opportunity to give birth naturally," said Tom George, Lee's manager and marketing agent. "It is something Jeanette has always hoped for."

While expecting mother is nothing but excited by the prospect of carrying a child to term, Lee has had a history of back problems, including a number of painful surgeries due to complications from scoliosis. She will continue to compete in professional events until mid-July, when she will remain at home through November.

Currently, the WPBA Classic Tour has just two dates on the 2010 schedule, one being this weekend's San Diego Classic. So Lee will only miss one event — the U.S. Open in early August — if everything continues as planned.