Headstring News
Mosconi Cup Back to York Hall
Mar 23, 2010, 8:01 AM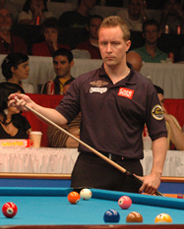 Immonen was on the 2002 Team Europe that won the last Cup held at York Hall.
THERE'S NO place like home — especially when home is an arena jammed full of pool fans screaming for you to bring home the 2010 Mosconi Cup.

According to a March 8 press release from event promoter Matchroom Sport, this year's Mosconi Cup — scheduled for Dec. 9-12 — will be held on familiar turf at London's York Hall, which hosted the transatlantic tilt for six years from 1997-2002.

The return to York Hall, which has undergone a multimillion-dollar renovation since it last hosted the contest eight years ago, should be welcome news to the European squad, fresh off an upset loss to the underdog Americans at the 2009 Mosconi Cup.

"I love the fact that we are going back to the York Hall," said world No. 1 Mika Immonen, who has made 13 appearances for Team Europe. "What could be a more perfect setting for the Mosconi?"

Matchroom chairman and Mosconi Cup promoter, Barry Hearn hopes to recreate the raucous atmosphere that made the East London boxing venue such a magnetic setting.

"The York Hall has a special place in the history of the Mosconi Cup and it's fair to say that, at times, it was the game's most intimidating arena," he said.