Headstring News
Women Welcome at 2010 U.S. Open
Mar 31, 2010, 8:22 AM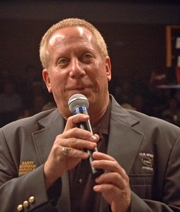 Behrman cited overwhelming support for the inclusion of women in making his decision.
The times are a changin' — and U.S. Open founder and promoter Barry Behrman has changed his often controversial stance against allowing women into the U.S. Open 9-Ball Championship.

The decision, which Behrman announced in an open letter to fans dated March 3, appears to be a win-win for the involved parties. The women professionals, who have seen the number of WPBA Classic Tour events trimmed to a meager two on the '10 schedule, get another opportunity to play in a big-time event.

Behrman, meanwhile, may get a number of entries in the U.S. Open he otherwise wouldn't see. Attracting fields of 233 and 236 in 2007 and '08, Behrman felt the economic squeeze last year, with the player list dipping to 212.

In his open letter to fans, Behrman wrote: "After discussing this decision with my dear friends ... and my daughter Shannon as well as many others, we all believe that this is the best decision for everyone involved. ... Upon reading the many posts featured on AZBilliards, I found that 85 percent of the fans would like to see woman participate in the U.S. Open and if you know me, I aim to please."

The 2010 U.S. Open is scheduled for October 17-23 at the Chespeake (Va.) Conference Center.