Headstring News
World 8-Ball Quarters: Euros Roll
Apr 9, 2010, 7:23 AM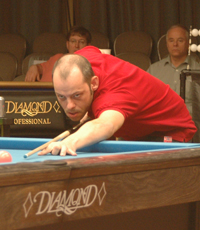 Appleton is in search of an 8-ball title to go along with his World 10-Ball crown.
As it worked out at the WPA World 8-Ball Championship, the quarterfinal matches were split along continental lines. Four Europeans, four Filipinos, four spots in the semifinals.

And in a bit of a surprise, the quarterfinal round was completely dominated by the Europeans, with Niels Feijen, Darren Appleton, Karl Boyes and Ruslan Chinakhov advancing to the semifinals, which will be held later this evening in Fujairah, United Arab Emirates.

Of the remaining four players, Feijen and Appleton carry the most international experience into the final stages of the event, with both players previously winning world championships in singles events. Feijen won the 2008 World Straight Pool crown; Appleton took the 2008 World 10-Ball title.

Boyes, however, has proven to be a factor in international competition. He was a part of the victorious Great British squad at this year's WPA World Team Championship and has posted top 10 finishes at the U.S. Open and Predator 10-Ball Championship. Chinakhov is also no stranger to big-time tournaments. He took fifth at last year's World 10-Ball event and is a regular threat on the talent-rich EuroTour.