Headstring News
It's Feijen-Boyes for World 8-Ball
Apr 9, 2010, 11:23 AM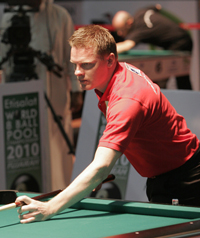 Feijen (above) sent Appleton out in third place with a strong 10-6 win. (Photo by Jerry Forsyth)
It looked easy, anyway.

At the semifinal round of the WPA World 8-Ball Championship, held in Fujairah, U.A.E., Niels Feijen and Karl Boyes appeared to have little difficulty moving into tomorrow's final. But in the final rounds of an international event, nothing can be so simple.

Boyes was absolutely unstoppable in his match against Russia's Ruslan Chinakhov. The Brit spun his way through rack after rack, sprinting to an emphatic 10-2 win. A member of Great Britain's victorious team at January's World Team Championship, Boyes now sits one set from his first major international singles title.

Feijen, meanwhile, jumped out to an early lead against Britain's Darren Appleton. Up 5-1, the Netherlander continued to inch toward the finish line, holding leads of 7-3 and 9-4. Following a dry break from Feijen, Appleton cleared the table and then broke and ran to get within three games. But Feijen finished off the set in the next game after an Appleton miss.

The final — an extended race to 13 — is set for 5 p.m. local time (10 hours ahead of Eastern Standard Time).