Headstring News
World Pool Masters Kicks Off
May 12, 2010, 3:39 PM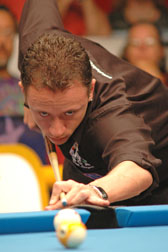 Van Boening was on the wrong side of a hill-hill match on Wednesday.
This year's World Pool Masters is a bit different than the 16-player single-elimination tournament of years past. And for a few of the favorites in the newly expanded field of 64, that's a good thing.

On Wednesday afternoon, several top-seeded players were upset in the first round of double-elimination play. But those who were defeated will have another chance, as this year's format has players in eight groups of eight, with play switching to single-elimination once 32 players remain.

Shane Van Boening, who has been playing flawlessly in recent events, dropped his first match against the Ukraine's Evgeni Novosad, 9-8. But Van Boening has company as a betting favorite on the one-loss side.

Just as expected, Francisco Bustamante and Ronnie Alcano are set to meet in the second round. What's surprising is that they're meeting on the left side after both were defeated.

Conversely, Thorsten Hohmann won his first two matches to be the first player through to the knockout round of 32. The steely German edged Radislaw Babica, 9-8, before topping Efren Reyes, 9-6, to advance.

The Matchroom Sport event will continue through this weekend, with a champion being crowned on Sunday.