Headstring News
WPM into Knockout Round of 32
May 14, 2010, 8:24 AM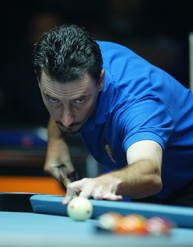 Archer (above) advanced though the one-loss side. (Photo by Matchroom Sport)
With the field at the World Pool Masters cut in half to 32, plenty of heavy hitters still remain as play switches to single elimination. But the rather mundane, such as Ralf Souquet and Johnny Archer surviving group play, is balanced by the quite surprising.

The first two days of the Matchroom Sport-produced event, where players were divided into eight groups of eight, produced a number of upsets that left a few heavy favorites on the sidelines as the sprint to Sunday's final kicks off Friday afternoon.

Shane Van Boening dropped two of three sets; Efren Reyes lost two straight after winning his first; and two-time world champion Ronnie Alcano went two-and-out. It seems as though for every world-beater who pushed through to the round of 32, there's an Evgeni Novosad of the Ukraine or a Do Hong Quan of Vietnam.

But with a supremely talented field, the round of 32 still has a number of notable match-ups. Topping the list is an especially tough quartet on the bottom of the bracket. Reigning champ Darren Appleton will face Germany's Oliver Ortmann, with the winner advancing to face the survivor of the Niels Feijen-Thorsten Hohmann match.

The Filipinos had an especially tough go of it in group play, with only Dennis Orcollo and Roberto Gomez left in the field. American hopes, meanwhile, will ride on six players, with John Schmidt, Charlie Williams, Dennis Hatch, and Rodney Morris joining Archer.