Headstring News
Orcollo the Master in Las Vegas
May 20, 2010, 8:03 AM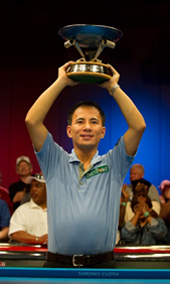 Orcollo caught a groove in the final, winning the final seven racks. (Photo by JP Parmentier-Matchroom Sport)
Dennis Orcollo is no stranger to success under the bright lights of Las Vegas. Now the Filipino money-game king can add another title to his growing collection. Champion of last year's Predator International 10-Ball Championship, Orcollo conquered a 9-ball event this time around, winning the 2010 World Pool Masters.

In a rather one-sided final against upstart Toru Kuribayashi of Japan, Orcollo turned a 3-1 deficit into a 8-3 victory, further solidifying his spot among the top two or three players in the world.

"I'm very happy and you can see the tears in my eyes," he said. "This tournament is really hard to win but I made it and I'm really proud to have won this. It's my biggest win."

Orcollo survived a scare in the double-elimination stage of the competition After easing past American Shaun Wilkie, he dropped a hill-hill set to Marcus Chamat. With a spot in the last 32 at stake, Orcollo ousted Jasmine Ouschan to reach the knockout round.

In the round of 32, he then avenged his defeat to Chamat with a 9-7 win before beating Raj Hundal 8-1 in the last 16. John Morra was his quarterfinal victim, before beating compatriot Roberto Gomez in the semifinal.

Kuribayashi, meanwhile, got off to the rough start, losing to Charlie Williams in his opening match, but he made his way through to the last 32 stages with wins over Ahmad Taufiq and Tony Drago. He then beat Taiwan's Kuo Po Cheng before whitewashing Daryl Peach in the last 16.

Kuribayashi took revenge over Charlie Williams in the quarterfinal, before disposing of Oliver Ortmann in the last four.

In the race-to-8 final, Orcollo looked set to take the first but mishandled the 6 ball, which cost him the rack. Kuribayashi then broke and ran the second to grab a 2-0 lead.

Orcollo had ball in hand in the third and converted to get on the scoreboard before he made an error in the next as he scratched playing a safety, and Kuribayashi made him pay to lead 3-1.

Kuribayashi looked in good shape in the next but lack of pace on the cue ball meant his run broke down. They exchanged safeties on the 4 before an attempted bank from Kuribayashi failed, and Orcollo ran the rack to get to 2-3.

There was ball in hand opportunity in the next for Orcollo, as Kuribayashi scratched making a jump shot and the Filipino converted his chance to level things at 3-3.

Orcollo began to find his groove in the ninth game as he ran out his second consecutive rack to put some space between himself and Kuribayashi, 6-3. Orcollo then cleared another rack to get on the hill.

In fitting style, Orcollo ran out what was the final rack to win, 8-3, and claim the title of 2010 PartyPoker.net World Pool Masters champion.

"I was worried when I missed the 6 ball (in the first rack) and it was unexpected but sometimes that can happen.

"In a money game it might not matter if you play badly at the beginning you can still recover but in a tournament if you start badly you may lose."