Headstring News
Field Dwindles at U.S. Open 10B
May 21, 2010, 9:05 AM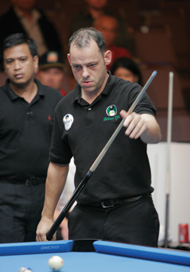 Last year's World Pool Masters champ Appleton has a history of success in Las Vegas.
Fresh off last weekend's 64-player World Pool Masters, the world's top professionals are back at it, matching up in the first-ever U.S. Open 10-Ball Championship.

Held alongside the BCA Pool League's National Championship, the U.S. Open 10-Ball event, organized by CueSports International, attracted a 128-player field, which has now been reduced to roughly a third of its original size.

On the winners side, 16 players remain, including Darren Appleton, who survived a tough test against Shane Van Boening on Thursday, 9-5. In other big-time matchups, Charlie Williams outlasted Thorsten Hohmann by the same count.

But perhaps the blockbuster matchup of the early rounds happened over on the one-loss side of the chart. Both Efren Reyes and Johnny Archer were upset in the second round, leading to an elimination set between the two Hall of Famers. Again by a 9-5 scoreline, Archer advanced at the expense of the Filipino legend.

More information, including updated brackets and a live Internet stream, on the U.S. Open 10-Ball Championship is available at playcsipool.com.