Headstring News
Manila to Host Predator 10-Ball
Jul 27, 2010, 8:07 AM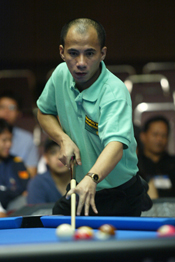 Orcollo will defend his 2009 title at the SM North Mall Edsa in Manila.
The evolution of the Predator International 10-Ball Championship continues. The event began a decade ago in the Jacksonville, Fla. area before moving to Las Vegas in 2008. This year, the premier 10-ball fete will be held in Manila, Philippines.

In a July 26 release, Dragon Promotion, who will promote and produce the event, announced that this year's championship will be held Sept. 15-19 at the SM North Mall Edsa in the Philippine capital.

"The Predator International Championship is the longest running Dragon Promotions event, and we can think of no place better than the Philippines to host it," said Dragon Promotions CEO Cindy Lee.

More than 30 countries will be represented in the 96-player field, but all eyes will be on a few past champions. Reigning champ Dennis Orcollo and 2008 surprise champion Tony Drago will both be highly regarded when the five-day event kicks off.

Also, in addition to the International 10-Ball Championship, Predator and Dragon Promotions will also stage the final rounds of a yet-to-be-finished tournament. Due to inclement weather during the second day of Predator World Tour's January stop in Lloret De Mar, Spain, players and tournament officials agreed to postpone the final rounds until a later date. Now, with the announcement of the September event in Manila, the event will be completed in the two days prior to the International 10-Ball Championship.

The 16 players who are still alive from the Spain event — led by a strong contingent of six Americans, including Charlie Williams — will receive free airfare and accommodations from Predator.

"As a top pro player, being able to play in back to back events is a huge benefit," Williams said. "And the players love going to Asia to play. It's the one place where it's viewed as a real sport, and the pro players are treated like stars."

Visit www.dragonpromotions.com and www.predator10ball.com for more information.