Headstring News
Kim Repeats as U.S. Open Champ
Aug 2, 2010, 10:57 AM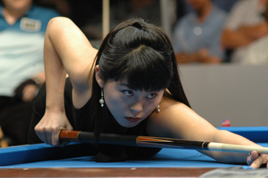 Kim broke and ran the final rack for a 7-6 win in the final.
Ga Young Kim has made a habit of winning the WPBA U.S. Open against Karen Corr. Since winning her first Classic Tour title at the Open in 2004, the Korean star has collected two more majors, both coming at the expense of former No. 1 Corr.

At this year's event — held at the Riverwind Casino in Norman, Okla. — Kim rolled through her first few matches. She eased passed Veronique Menard, 9-2, and Dawn Hopkins, 9-5. She finished her run into the single-elimination 16-player bracket with a 9-4 win over Monica Webb.

When the players were redrawn (the eight unbeaten players are matched with those that advance from the one-loss side), Kim again faced Webb. This time, the Georgian came within a rack of advancing, but Kim took the case game for a 9-8 win. Kim then thumped Gerda Hofstatter, 7-3, and Julie Kelly, 7-2, for a spot in the final.

Corr, meanwhile, outlasted Kim Shaw, 7-5, in the quarterfinals, before shutting out Vivian Villarreal in the semifinal, 7-0.

While Kim reached the hill first, 6-5, Corr responded by clearing the next rack from her break to force a case game for the title. But with the break, Kim responded by dropping the 2 and 7 balls. She survived a long try on the 4 ball and a difficult cut on the 9 to clinch her third U.S. Open title, and sixth WPBA victory overall.