Headstring News
Archer Nabs Turning Stone XV
Aug 23, 2010, 2:45 PM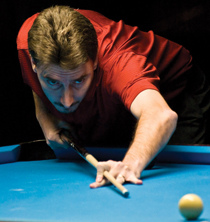 Archer was rarely challenged en route to title No. 6. (Photo by Bruce Clayton)
Johnny Archer is well beyond the point of just making it look easy at the Turning Stone Classic. The Hall of Famer's latest win this past weekend at the 15th running of the Joss Northeast Tour's big-money biannual event was his sixth in the last eight events. Yup, that gives Archer a not-too-shabby winning percentage of 75 percent.

Over the weekend, Archer cruised through the winners-side bracket, rarely challenged on his way into the hot-seat. Stringing seven matches together, he faced only two challenges, topping both Tony Robles and Shaun Wilkie by 9-6 counts. Other than that, Archer kept rolling with relative ease, capping his run with a 9-5 win over Rodney Morris for a spot in the final.

Morris, who fell to Archer in the championship of the event's last running in December 2009, rebounded on the one-loss side with a resounding 9-1 victory over Dennis Hatch, whom Morris had previously edged 9-7 on the winners side.

But Morris couldn't keep Archer from the double hat trick. In the extended race-to-13 final, Archer pulled ahead for a 13-8 clinching victory. With the win, Archer solidified his spot as the No. 1 player on the BCA points list, while pocketing $8,000 along the way.