Headstring News
Jeanette Lee Delivers Baby Girl
Sep 7, 2010, 11:41 AM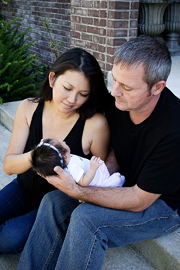 Lee and Breedlove sit with Savannah.
The following is a press release from Octagon, the representation and marketing agency for Jeanette Lee, aka "The Black Widow":

Professional billiards star Jeanette Lee and her husband, George Breedlove, are proud to announce the birth of their sixth child, Savannah Lee Breedlove. Savannah was born on August 31 and mother and daughter are doing well. Savannah is the first natural-born child for the couple.

Lee and Breedlove are the definition of raising a modern blended family. Savannah is the newest member of the family joining her sister Chloe, who was born to a surrogate mother last October. The couple is also parents to an adopted child, Cheyenne (6), a foster child, John Kang (18), along with Breedlove's two daughters from a previous marriage, Morgan (23) and Olivia (22).

"The ability to carry my own child was such an amazing experience and something I have always wanted," said Lee. "George and I are so proud of our family and take great joy in raising our children in the best possible home environment. The birth of Savannah is truly a blessing for our family."

Following a brief maternity leave, Lee is expected back to competition at the beginning of November. Said Tom George, Octagon's Senior Vice President who manages Lee's business endeavors: "This is a very special time for Jeanette and George as the birth of their own child is something they have always dreamed of. Their commitment to all their children, no matter what their background, is amazing to witness. Blended families are more commonplace now than ever before and Jeanette and George are a successful example of that."

The birth of Savannah is truly special given Lee's battle with scoliosis, which some thought would make carrying a child near impossible. Since being diagnosis at age 13, Lee has had numerous surgeries and procedures to stem the worsening of her condition.