Headstring News
Varner Named Yankee Skipper
Sep 28, 2010, 8:41 AM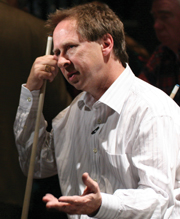 Varner led the U.S. to a surprising 11-7 victory at last year's competition.
If Nick Varner didn't earn another year captaining the American squad following last year's shocking Mosconi Cup result, something would be amiss. Worry not, though, as Matchroom Sport announced 62-year-old legend will lead the U.S. into battle at this year's transatlantic tilt — set for Dec. 9-12 at York Hall in London.

Entering the 2009 Mosconi Cup, Varner's U.S. team was considered heavy underdogs, after suffering through a 12-5 drubbing the year before from a stacked European squad. But thanks to some superb play early, the Americans ran away with the Cup, clinching the upset by a count of 11-7.

Looking to steer the Yankee clipper again in 2010, Varner is eying yet another victory for the Americans.

"It will be exciting to see Team USA repeat again in the Mosconi Cup," he said. "And I'm looking forward to one more victory and dance with Team America!"

The Europeans, meanwhile, will be lead by Johan Ruijsink, who led them to victory in 2007. For the 44-year-old, it will be his third outing as European captain and so far he is undefeated, claiming a draw in Rotterdam in the 2006 and then a superb 11-8 win the following year, the first European victory on American soil.

"I am looking forward to lead my players into the epic battle that the Mosconi Cup has always been," he said. "And I am confident that team Europe will be able to break the winning mood that the Americans have shown last year."