Headstring News
Mosconi Cup: Souquet, Hatch Back
Oct 8, 2010, 9:56 AM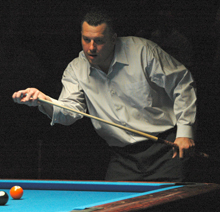 Hatch won four of five matches in his first appearance last year.
Matchroom Sport announced two more players for this year's Mosconi Cup, set for Dec. 8-10 at York Hall in London — neither of which should shock fans of the most celebrated team event on the tournament calendar.

Back for the Europeans, Ralf Souquet will make his 14th run in the annual U.S.-Europe clash. With the 2010 nomination, Souquet ties American Johnny Archer for the most appearances in the event's 17-year run. (WPA World No. 1 Mika Immonen will also have 14 if he's named to this year's squad.) Souquet is the second member of the European team to be announced, after EuroTour No. 1 Karl Boyes earned his automatic bid.

For the Americans, Dennis Hatch will be a part of his second Mosconi Cup. And if the U.S. hopes to keep the Cup, Hatch will have to mimic his 2009 performance that ended with him hoisting the MVP trophy. The big man from Buffalo was the emotional leader for an American squad that overcame hefty odds to upset the Europeans.

The remaining slots three slots on each five-man team will be filled later this month

Visit www.matchroompool.com for more information on the 2010 Mosconi Cup.