Headstring News
Predator 14.1 Rolling Along
Oct 8, 2010, 2:50 PM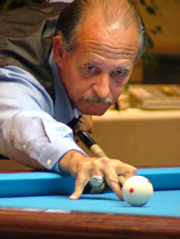 Sigel has been impressive early on at the 14.1 tournament.
With the weekend approaching, the 48 players at the Predator World Tournament of 14.1 are jockeying for position in the opening round-robin phase. With players divided into eight groups of six, three rounds of play are in the books.

Perhaps the most notable deveopment thus far — though certainly not much of a surprise — has been the play of Hall of Famer Mike Sigel. The 57-year-old has won his first three matches, including a 100-9 victory over last year's runner-up, Mika Immonen. With two matches left, Captain Hook looks to be headed to the knockout phase of the tournament.

Other notable unbeatens include reigning champ Stefan Cohen of France (3-0), 14.1 powerhouse Oliver Ortmann (3-)and Jasmin Ouschan (2-0).

The high-profile 14.1 event, held Breakers Billiards in Clifton, N.J., will run through the weekend, with the final set for Monday, Oct. 11.

Brackets are being hosted by www.azbilliards.com, and live streaming of the event is available at www.accu-stats.com.