Headstring News
Ortmann Takes World 14.1
Oct 12, 2010, 8:12 AM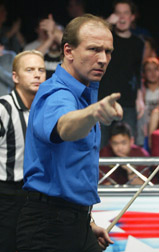 Ortmann ran 82 and 102 to seize control of the final.
A lot has been made of Oliver Ortmann's first major straight-pool title. In 1989, the German entered the U.S. Open Straight Pool event as an unheralded import with little hope of competing for the prestigious title.

But Ortmann, then just 22 years old, shot his way to the title, with a final-match upset of the mighty Steve Mizerak. The win is the symbolic beginning for the European domination of the game.

So, in a fitting trip full-circle, Ortmann is again the World 14.1 Champion. At the 2010 Predator 14.1 World Tournament, the powerful German hit his stride in the final 16-player knockout phase. He opened up with a 200-63 win over Danny Barouty before ousting Johnny Archer, 200-151.

In the semifinal, Ortmann faced Holland's Huidjie See, whom Ortmann edged for the 2007 world title. Again, See would fall, this time ending his event in third place by a 200-125 score line. The other semifinal matched Thorsten Hohmann, 2006 world champ, against Mika Immonen, who finished runner-up to Stefan Cohen at last year's event. Immonen again advanced to the final by edging Hohmann, 200-65.

In the championship, Ortmann established control early with an 82-ball run after a scratch from Immonen. The Finn returned to the table after Ortmann erred on a break shot, but Immonen again missed. Ortmann made him pay, this time putting together a run of 102 to put him within 16 balls of the title.

Immonen responded with a run of 62, but then ceded control back to Ortmann, who then ran out for yet another significant title.