Headstring News
U.S. Open: America's Hope
Oct 22, 2010, 6:30 PM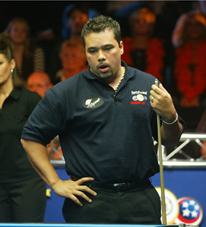 Morris (above) will face Deuel, with the loser finishing in seventh place.
CHESAPEAKE, Va. -- Hopes for the U.S. Open title to return to American shores rest on the shoulders of two players. Unfortunately, those two players -- 1996 champ Rodney Morris and 2001 winner Corey Deuel -- face off in the next round of play.

The pair will meet in the seventh-place matches, which will soon be underway in the Chesapeake (Va.) Conference Center. Deuel is fresh off an 11-8 win over 2007 champ Shane Van Boening, while Morris has plenty of momentum after thrashing Thorsten Hohmann, 11-2.

The other seventh-place match will pit Ralf Souquet against Warren Kiamco. After suffering a heartbreaking 11-10 loss to Jason Klatt, Souquet rebounded with a strong 11-5 win over newly inducted Hall of Famer Francisco Bustamante.

But perhaps the most remarkable story to this point is Mika Immonen. The two-time defending U.S. Open champ has been thoroughly dominant in his trek through the winners side. With an 11-4 win over Klatt, the last remaining dark horse, Immonen is in the hot-seat match, just two victories away from an incredible third consecutive title.

In a tournament that has been a bit light on Cinderellas, Klatt has made an impressive run deep into the brackets. While no stranger to the major events in the U.S. and Canada, the 24-year-old Canadian has emerged as a strong player on the international scene. His highest finish at the U.S. Open is just 17th place, but he recently finished ninth at the World 9-Ball Championship in Qatar.

But Immonen is clearly -- and with good reason -- the man to beat. He awaits the winner of the Darren Appleton-David Alcaide set, which is just underway.

Online brackets can be found at www.azbilliards.com, with live streaming featured on www.accu-stats.com.

Check back to billiardsdigest.com for player reaction and match updates after each round of play.