Headstring News
Immonen, Appleton for Hot-Seat
Oct 22, 2010, 8:55 PM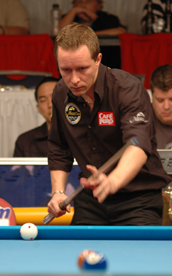 Immonen (above) trounced Klatt, 11-4, to guarantee a spot in this year's top three.
CHESAPEAKE, Va. -- What started as a bloated bracket full of 256 players is now down to just six men. And with the 2010 U.S. Open 9-Ball Championship a day away from being settled, Mika Immonen has ensured that anyone interested in this year's crown will have to go through him to get it.

The two-time reigning champ was in impressive form on Saturday. He muscled past Taiwan's rising star Lo Li-Wen, 11-7, before blasting upstart Jason Klatt, 11-2, for a spot in Sunday's hot-seat match. While the crowd is certainly abuzz with the possibility of the first back-to-back-to-back champion in the U.S. Open's 35 year history, Immonen has tried to keep his mind focused on the task at hand.

"Of course, I'm thinking about it," he said. "But I'm trying to take it one shot at a time."

Immonen will face Darren Appleton tomorrow at 1 p.m. (EST) for a spot in the final. Appleton topped Efren Reyes, 11-5; Corey Deuel, 11-8; and David Alcaide, 11-8, to inch within a set of the final.

After a grueling match with Alcaide on the Accu-Stats TV table, Appleton was relieved that he had the night off to prepare for what could be a very big day on Sunday.

"Right now, I'm just looking forward to taking an hour with some friends to settle down," he said. "I just hope to get some sleep and be ready for tomorrow."

Currently, the fifth-place matches are underway in the Chesapeake (Va.) Conference Center. Klatt is facing Deuel on the TV table, while Warren Kiamco battles Alcaide in tonight's final round of play.

Tomorrow, the Klatt-Deuel winner will play the Kiamco-Alcaide survivor at 1 p.m. The third-place match will be at 3 p.m., with the final slated for a 7 p.m. start.