Headstring News
U.S. Open: Four to Chase 2010 Title
Oct 23, 2010, 7:51 AM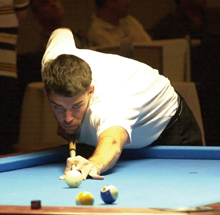 Deuel (above) will look for a second win over Kiamco in the fourth-place match.
CHESAPEAKE, Va. -- The U.S. Open is a day away from crowning the 2010 champion; just four players four matches from one of the biggest titles in pool.

No doubt the headliner is two-time reigning champion Mika Immonen, who will face Darren Appleton for the hot-seat Saturday at 1 p.m. (EST).

But there's another former champ still in the hunt. Corey Deuel -- who blanked Immonen, 11-0, for the 2001 title -- rebounded from a 11-8 loss to Appleton. He eliminated Shane Van Boening and Rodney Morris, both 11-8, to face Jason Klatt in Saturday's final round of play. On the Accu-Stats TV table, Deuel then hit a gear en route to a surprisingly easy 11-1 win. He is set to face Warren Kiamco, whom he topped 11-10 earlier in the tournament, in the fourth-place match tomorrow at 1 p.m.

For Klatt, the one-sided defeated ended an inspired run in a rather unceremonious way. The 24-year-old from Toronto blasted his way into the winners-side final four, topping the likes of Karl Boyes, Charlie Williams and Ralf Souquet along the way.

But he then ran into Immonen, who was unstoppable in what has to be the match of the tournament, at least to date. Winning the lag, Immonen broke and ran the first six racks. After a safety battle in the seventh game, Klatt got on the board, then ran a trifecta himself to edge within two games at 6-4. He then broke dry and, after an exchange of safeties on the 1, was finished by Immonen, who ran out the set.

Klatt then faced Deuel for a spot in the final four, but the set was over quickly. Deuel stretched an early lead and closed out the set, 11-1. Bounced out in fifth place, Klatt faced mixed emotions after his rather swift exit.

"I'm proud of what I did," he said after his loss to Deuel. "But it really leaves a bad taste in my mouth, to go out like that. I don't know if I'll have this opportunity again, to be so close."

Similarly, David Alcaide went from the edge of the winners-side final to a fifth-place exit. The Spaniard was sent to the left in a grinding 11-8 match to Appleton. He then looked out of gas against Kiamco, who rolled to an 11-5 victory.

For Kiamco, this year's tournament provides a shot at redemption after a close call in 2007. Three years ago, the 40-year-old Filipino braved a hellish slog through the left-side, only to fall short a match before the final.

"Now I get to see if I can do better than third," he said. "I'm tired, but I will be ready tomorrow."

The Kiamco-Deuel match is set for 1 p.m. (EST), running alongside the hot-seat match. The semifinals are scheduled for 3 p.m., with the race-to-13 (win by two) final slated for 7 p.m.