Headstring News
U.S. Open: Appleton in the Hot-Seat
Oct 23, 2010, 1:19 PM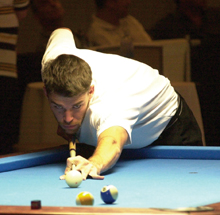 Deuel (above) clinched victory over Kiamco in thrilling fashion.
CHESAPEAKE, Va. -- Anyone thinking the win-by-two rule, a new new addition to this year's final day, would limit last-rack heroics needn't worry. In the fourth-place match, Corey Deuel and Warren Kiamco battled to a 10-10 tie in the race to 11, meaning the set was headed to extra time.

After the two split a quartet of games, Deuel forced Kiamco into a foul to get on the hill, 13-12. Then, sinking a ball on the break, the 2001 champ saw an interesting opportunity. With a backward cut on the 1, Deuel had a natural angle directly to the 9, which was a diamond away from the other corner pocket. He drilled the cue ball, which skimmed off the 1 and squarely into the 9, which fell for the win.

Deuel will now face Mika Immonen, who dropped the hot-seat match to Darren Appleton, 11-9. Just three balls from knotting the match at 10 (which would have again put the win-by-two rule into play), Immonen hung the 7 on a slim cut along the foot rail. Appleton cleared it for the win.

Knowing he's got a spot in the fina, the Brit unleashed a series of howls, pointing to his countrymen seated in the stands. The usually reserved Appleton couldn't hide his excitement in the wake of such a dramatic victory.

"I'm where I want to be," he said. "I was fortunate that [Immonen] missed that 7, but I'm happy with how I played. I've got one more to go."

The left-side final between Deuel and Immonen is now underway, with the race-to-13 final (which will again be win-by-two) currently scheduled for 7 p.m. (EST).