Headstring News
Deuel, Appleton in Open Final
Oct 23, 2010, 3:40 PM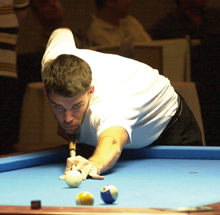 Deuel (above) raced past Immonen, 11-3, in the left-side final.
CHESAPEAKE, Va. -- Corey Deuel is back in the U.S. Open final, just one win away from his second title after winning the 2001 crown -- and the opportunity isn't lost on the 32-year-old.

"Really, I feel lucky to be here," he said, moments after dispatching Mika Immonen, 11-3, in impressive fashion. "I just think I played my best match at the right time."

Entering the match on an emotional high after topping Warren Kiamco in the fourth-place match (this year's final-day sets are win-by-two), Deuel kept rolling against the two-time defending champ. The pair split the first half-dozen racks, before Deuel caught fire.

On his way through the next eight games, he kept Immonen's chances limited while punishing his opponent for any mistake. By the time the score reached 7-4, the Chesapeake Conference Center filled with a sense of inevitability to Deuel's victory. He then cleared the table after a loose safety by Immonen, and broke and ran the final three to clinch his spot in tonight's final. He will face Darren Appleton, who earned the hot-seat with an 11-9 win that left Immonen in the semifinal.

With all the momentum behind him, Deuel hopes to open up strong in the extended race-to-13 final.

"I'd love to get an early lead," he said. "But all I want is to play my best."

Certainly an unceremonious exit for the 37-year-old champion, Immonen stood little chance with Deuel breaking and playing near perfectly. The 2008-2009 Player of the Year finishes in third place, just two wins shy of an unprecedented three-straight U.S. Open titles.