Headstring News
Ouschan Conquers Women's World 10B
Oct 29, 2010, 7:58 AM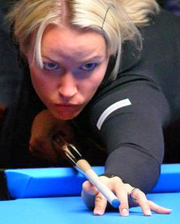 Ouschan (above) outlasted Ga Young Kim for the $20,000 first prize.
While establishing herself as a dominant force on the Women's Professional Billiard Association's Classic Tour, Jasmin Ouschan always eyed taking taking that next step and transferring her success to world championships. Now, with her triumph at the Women's World 10-Ball Championship in Manila, the 24-year-old has done so.

Battling Ga Young Kim in the final, Ouschan fell behind the Korean sensation, 4-0, early in the race to 10. But the reigning Player of the Year then caught fire, collected the next seven racks for a lead she would never relinquish. Kim closed to within 7-5 and 9-6, but Ouschan clinched in the 16th rack after a Kim miss.

"It [will] take a couple of hours for this to sink in, but I can't believe that this is happening," said Ouschan. "I've came so close to winning this, I've been chasing it for years and to win this in the country considered the billiards capital of the world, it's just amazing."

Ouschan went unbeaten in the group stages, winning all five of her matches. She then edged Japan's Miyuki Fuke, 8-5, and Karen Corr, 8-2. In the semifinal against Kelly Fisher, Ouschan was on the winning end of a tight 9-7 decision to set up her final tilt opposite Kim.

For Ouschan, the Women's World 10-Ball represents her first world title sanctioned by the World Pool-Billiard Association. Not only that, the win also positions Ouschan as the favorite for 2010 Player of the Year honors.