Headstring News
Mosconi: No Surprises for Team USA
Oct 29, 2010, 8:42 AM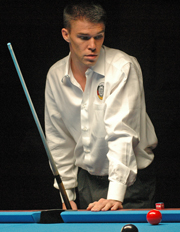 With a runner-up finish at the U.S. Open, Deuel looks to be in prime shape for December's Mosconi Cup.
Entering last week's U.S. Open, only two of five slots on the American Mosconi Cup team were filled — by Johnny Archer and last year's surprise MVP Dennis Hatch. On Friday morning, Matchroom Sport announced the final three members of Team USA: Corey Deuel, Shane Van Boening and Rodney Morris.

All three have plenty of experience in the transatlantic team competition, with Morris and Deuel each making his seventh appearance. Van Boening will be lining up for the U.S. for the third consecutive year.

The trio turned in strong efforts at the U.S. Open, with Deuel coming within a rack of his second title. He dropped a heartbreaking 15-13 final to Darren Appleton, who will be making his Mosconi Cup debut for Team Europe.

While surprising winners last year, the Americans will venture to London's famed York Hall to face another stacked Team Europe. Ralf Souquet, Mika Immonen, Karl Boyes and Nick van den Berg will join Appleton to represent Europe.

The Mosconi Cup is scheduled for Dec. 9-12. Info and updates can be found at www.matchroompool.com .