Headstring News
U.S. Takes Early Mosconi Cup Lead
Dec 9, 2010, 5:06 PM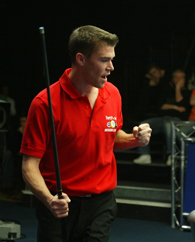 Deuel (above) turned a 3-0 deficit into a 6-4 final against Immonen.
Team USA's bid to retain the Mosconi Cup amid the raucous, decidedly pro-Europe atmosphere at London's York Hall didn't get off to the ideal start.

This year's transatlantic competition kicked off with a full-team match, putting all 10 players into competition from the start. The Europeans grabbed an early 4-2 lead in the race to 6, but the American responded by taking the next three to get on the hill, 5-4.

But Dennis Hatch, last year's MVP in his first ever appearance in the Matchroom Sport franchise, erred getting position on what would have been the second to last ball of the match. He left Rodney Morris hooked behind the 9 ball, and the Hawaiian fouled, giving Team Europe the chance to even the match. The crowd favorites then cleared the final rack for the first point in this first-to-11 competition.

American fortunes quickly turned in the second match, a doubles contest matching Morris and Hatch against Nick van den Berg and Ralf Souquet. The two sturdy Americans rolled out to a 5-0 lead, just a rack from evening the contest at 1-1. But Van den Berg and Souquet responded by taking the next four. The comeback was aborted, though, when Van den Berg missed a cross-side bank. The Americans cleared for a 6-4 win.

Originally set for four matches on the opening night, Thursday night's action was trimmed to three because of the late hour. So the singles set matching Corey Deuel and Mika Immonen would decide the first night's victor.

Immonen quickly took the first three racks of the set, but Deuel showed plenty of nerve to silence the rowdy crowd with a 6-4 come-from-behind winner.

With the edge, the Americans will look to settle into the hostile environment. Morris, a veteran of six Mosconi Cups, offered a bit of a jab toward the Europeans as the players exited the arena.

"It was great to win coming off a loss and you have to show a lot of heart. But as I've said we've got more heart and we're going to show it," said Morris.