Headstring News
The Lion Roars at Derby City
Jan 26, 2011, 12:35 PM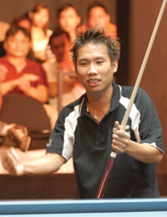 Pagulayan (above) outlasted Alcano in the 9-ball banks final.
The banks 9-ball division, the first of the three major tournaments to be played at the Derby City Classic, usually serves as a platform to celebrate local talent. Only one international player (Jose Parica in 2001) has taken the title in the Louisville-area event's first dozen years. Not only that, local legends like Nick Varner, Shannon Daulton and John Brumback are among the titlists.

This year, though, the Filipino contingent dominated the opening phase of the Derby City Classic, which runs through Saturday at the Horseshoe Casino in Elizabeth, Ind.

With just seven players remaining, Alex Pagulayan and Ronnie Alcano, the two lone unbeatens, squared off. Pagulayan, who has recently rededicated himself to pool, outlasted his countryman, 3-2.

Alcano then eliminated Jeremy Jones, while Pagulayan dispatched Justin Hall. The two Filipinos then joined two-time reigning champ Brumback as the final three, with only Pagulayan without a loss. (Derby City allows for players to buy back into the field after one loss.)

While Pagulayan received a pass into the final, Alcano outlasted Brumback, ousting the Kentuckian, 3-1, to end hopes for the first three-peat in DCC history. Alcano then advanced to meet Pagulayan in the final, where he would have to win successive sets for the title.

Pagualayn took the opening rack by breaking and banking five and out. He then won a defensive second rack to get on the hill, 2-0. But Alcano then cleared five following an dry break. In the fourth rack, though, Pagulayan crept closer and closer to the title, finally dropping a cross-side clincher for his first title at the Derby City Classic.

The one-pocket division is currently underway, with the 9-ball event set to kick off on Wednesday evening.