Headstring News
Derby City 1P Down to Eight
Jan 27, 2011, 9:41 AM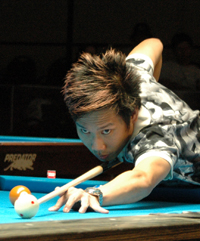 Pagulayan is the early favorite for the all-around title.
After nine rounds of play in the Derby City Classic one-pocket division, only eight players remain. Alex Pagulayan, this year's 9-ball banks champ, headlines the octet as one of two competitors who still hold their buy-back option (meaning they can lose a match and buy back into the competition). Scott Frost, last year's titlist in one-pocket, is also unbeaten.

The one-pocket division is set to wrap up this evening, with four matches scheduled for noon. Pagulayan will play Niels Feijen; Shannon Daulton will face Frost; Earl Strickland will meet Jeremy Jones; and Shane Van Boening will square off against Brandon Shuff.

With the banks crown in his back pocket and a buy-back option in one-pocket, Pagulayan is the early favorite for the $20,000 Master of the Table, awarded to the player who accumulates the most points in the three main divisions (9-ball banks, one-pocket and 9-ball). Jones, who finished fourth in the banks event, is also in early consideration for the prestigious award.

While the main events keep chugging along, a number of side tournaments — and the ubiquitous action matches — keep the Derby City party rolling 24 hours a day. The Fatboy 10-Ball Challenge, in its third year at the DCC, will wrap up on Friday night.

A 16-player event with $10,000 added, the Fatboy Challenge boasts a ridiculously stacked field competing for a first-place prize of $9,000. The 2011 event will have a new champion, as Efren Reyes, last year's champ, didn't make the trip to the Louisville area due to back problems.

Still, the semifinals are nearly set, with Darren Appleton facing Francisco Bustamante and Lee Vann Corteza facing the winner of the Niels Feijen/Rodney Morris quarterfinal, which will be played this morning.