Headstring News
Van Boening Conquers DCC 1P
Jan 27, 2011, 10:49 PM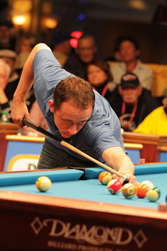 Van Boening (above) knocked out Strickland in a rapid-fire final. (Photo courtesy David Thomson-mediumpool.com)
ELIZABETH, Ind. -- Maybe not the first name that comes to mind when thinking about the discipline of one-pocket, Shane Van Boening proved more than capable at the cerebral game. Facing Earl Strickland in the final of the Derby City Classic's 317-player one-pocket division, the 27-year-old South Dakotan prevailed in a offensive-minded five-game final.

Strickland, also not commonly considered a one-pocket player, jumped out to an early lead by winning the first game. Van Boening responded by knotting the match at one, before Strickland got on the hill, 2-1. Van Boening again responded to take the fourth set, leaving Earl with the break in the case game. Each player took a ball, before Van Boening got the first open look. From there, the 2007 Player of the Year ran out for a 3-2 victory.

With the victory, Van Boening puts himself in the middle of the Master of the Table, the $20,000 all-around title decided by points accumulated in the three main divisions. Rebounding from an early exit in the 9-ball banks, he's second in total points at 120. Alex Pagulayan, the banks champ, is heavy favorite for the all-around title. The Filipino finished third in one-pocket, which gives him 190 points entering the final two days of the Derby City Classic.

Pagulayan, though, already has a loss in the 9-ball division, while Van Boening is still unbeaten through two rounds. Other possible contenders for the $20K top prize: Earl Strickland with 106.5 points, Jeremy Jones with 102.5, and Ronnie Alcano with 100. Shannon Daulton has 107.2 points, but is already eliminated from the 9-ball division.

The champion of the 9-ball division will receive 120 points, meaning Pagulayan will be tough to catch.

Entering Friday, 179 players remain alive in the 9-ball division. Check back for updates as play continues at the Horseshoe Casino.