Headstring News
George San Souci Dead at 39
Mar 9, 2011, 11:18 AM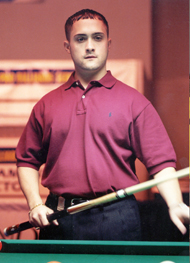 San Souci excelled in all games, collecting major titles in 9-ball, 10-ball and straight pool.
Just 10 weeks after the death of pro great Wade Crane, the pool world has suffered another stunning loss. George "Ginky" San Souci, who came to the game late and enjoyed meteoric success before being sidetracked by neck ailments, died Tuesday, March 8, in New York City. San Souci was 39. Cause of death has yet to be released.

Born and raised in the Yorkville section of Manhattan, San Souci stumbled into the game in the post-"Color of Money" 1980s, when, as an 18-year-old, he and his cousins started visiting the then-trendy Chelsea Billiards for late-night entertainment. Soon he was hooked on the game and eventually dropped out of high school. Within a few years, San Souci was playing in tournaments, and by the mid '90s was en route to four consecutive Player of the Year honors on the Tri-State Tour in the Northeast. He was also selected as the Billiards Digest Rookie of the Year in 1995.

San Souci's rise in the pool world peaked in 1998-99 when he won the Camel Pro Billiard Series Charlotte 10-Ball Open (his first pro tour win), the National Straight-Pool Championship and the BCA Open 9-Ball Championship in a nine-month span. San Souci underwent surgery to replace a herniated disk in his neck in July 1999, and "retired" from pool in 2002. In recent years he had returned to the table, playing sporadically in pro events.

San Souci is survived by his sister, Irene San Souci.