Headstring News
Hohmann, Chen Take Philippine Open Titles
Apr 11, 2011, 11:56 AM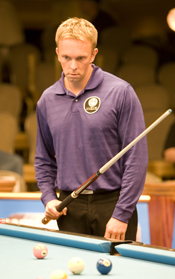 With the win, Hohmann took his first major title on Philippine soil.
From the World Pool-Billiard Association, Thorsten Hohmann and Chen Siming have taken the titles at the Philippine Open.

Chen won in dominating style, never giving Kelly Fisher a breath of air as her offensive style left few opportunities for challenge. The 17-year-old Chinese native defeated Fisher, 9-3, and is yet the latest superstar female to emerge from China. 

Thorsten Hohmann had a bit more of a battle on his hands in his victory. He and Ralf Souquet went rack for rack with never more than a single point between them until Souquet gained his first lead of the match at 10-9 in the race to 11. From there Hohmann won the next two racks to claim the title. When Hohmann won the rack to get him to double-hill it was his third hill-hill match in the last four. He had also won against Carlo Biado and Ricky Yang by the same margin.

Hohmann captured $30,000 with the win, while Chen took home $20,000. Both runner-ups pocketed half that of the champion.