Headstring News
Dechaine Pockets Ultimate 10-Ball Title
Apr 25, 2011, 12:49 PM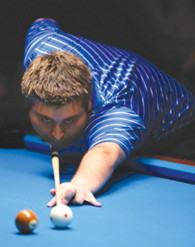 Just 23 years old, Dechaine is among America's most talented young players.
Since Shane Van Boening went from fledgling pro to U.S. Open champ and BD Player of the Year in 2007, the United States has not been fertile ground for young talent. Sure, a few players have raised eyebrows on the national level at one or two events. But for the most part, the national pool paradigm has remained relatively unchallenged for nearly a half-decade.

This past weekend, however, at the Ultimate 10-Ball Championships, 23-year-old Mike Dechaine proved he belongs in the conversation of the upper echelon of American talent.

From the small coastal town of Waterville, Maine, Dechaine captured the biggest title of his young career with a hard-fought 12-10 win over Jeremy Jones.

Among a field of 93 players in the Frisco (Texas) Hotel and Convention Center, Dechaine was dominant through his first five matches, which included a 8-3 pasting of Johnny Archer. But opposite Jones in the winners-side final four, Dechaine dropped a heartbreaking 8-7 set to the lanky Texan.

On the left side, Dechaine regained momentum with a pair of easy wins over Jeremy Sossei and Charlie Williams. Then in the left-side final, he stood just a rack from elimination, with Canadian young gun Jason Klatt on the hill, 9-7. But Dechaine then collected the final three racks — all defensive affairs — to take a spot in the final, 10-9.

The two finalists traded racks in the single-set race to 12, with Jones edging ahead, 10-9. But Dechaine again showed his mettle on the big stage, by cleaning up after a Jones miss and then clearing from his break to get on the hill, 11-10.

Jones looked in line to meet his young opponent on the hill, but he misplayed a thin cut on the 4 ball, leaving it in the jaws of the corner pocket. Dechaine then mopped up the open table for the title.

The women's division, meanwhile, represented more of a return to the status quo than anything else. Allison Fisher, unparalleled in accomplishments over the past decade and a half, captured her biggest payday since June 2008.

Fisher faced her first test in the fifth round, opposite Kelly Fisher. Allison prevailed, 7-5, then trounced upstart Angel Paglia, 7-2, for the hot-seat. On the left-side, Kelly Fisher rattled off wins against Monica Webb, Line Kjorsvik and finally Paglia, 8-2, to earn her spot in the final.

In the race-to-10 final between Fishers, Kelly looked in total control as she stretched her lead to 7-4. But Allison responded by collecting the next six for a dramatic return to the winner's circle by a 10-7 score.

Dechaine took home $16,600 for his win, while Fisher pocketed $5,600.