Headstring News
World 10-Ball: See-ing is Believing
May 16, 2011, 8:40 AM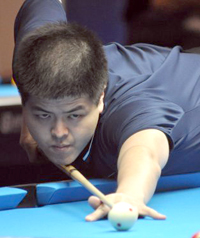 See led throughout in his title-clinching victory. (Photo by Raya Sports)
Entering the 128-player World 10-Ball Championship, Huidji See was hardly among those dozen likely title contenders. The 29-year-old Dutch journeyman was without a defining victory. He hadn't won a EuroTour title; he hadn't, despite spending plenty of time on U.S. soil, snapped off a quality national event; he hadn't displayed much of a killer instinct, outside of a strong runner-up finish at the 2007 World 14.1 Straight Pool Championship.

But at last weekend's World 10-Ball Championship, See wasn't interested in the reality of his situation among a murderer's row of international world-beaters.

How else can you explain a 29-year-old journeyman navigating the 128-player bracket at the World 10-Ball Championship to snap off a career-making $60,000 title?

"This is a dream come true," See told the Manila Standard Today. "I felt like it was only a dream and I have to pinch myself several times to see if it's real — and it's real."

The dream became reality with an 11-8 win over China's Fu Jianbo in the championship match. But before that, See began his march to his breakthrough victory with a disappointing 9-5 loss to David Rothall in the opening round of group play.

With players divided into 16 groups of eight, with four players advancing from each flight via double-elimination play, See had to win a pair of matches for a spot in the 64-player single-elimination knockout round. He easily crushed Hussain Abdulmajed, 9-5, but then faced the titanic task of topping Ralf Souquet in an elimination match.

See responded, posting a shocking 9-4 victory over the German, who departed in a disappointing 65th place. But for See, the match was far from his last surprising result. In the knockout bracket, he strung together three wins over Yousseff Jalal, 9-3; Ricky Yang, 9-7; and Taiwan's sensation Ko Pin-Yi, 9-6. In the final eight, See trouned the quick-stroking Tony Drago, 9-4, and then ousted Japan's emerging talent Yukio Akakariyama, 9-6.

In the final, See faced China's super-talented Fu Jianbo, who has won a pair of World Cups of Pool (in 2007 and 2010 with countryman Li Heiwen) and the 2007 International Challenge of Champions. But See was in control from the start of the race-to-11 final. He grabbed leads of 4-1 and 6-2, slowly plodding his way to the finish line.

Fu challenged late, closing within a rack at 8-7. But See took two of the next three to get on the hill, 10-8. When Fu erred while banking the 3 in the 19th game, See had his route to victory.