Headstring News
Akagariyama New World 9-B Champ
Jul 1, 2011, 1:56 PM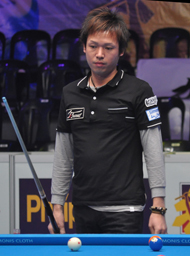 Akagariyama collected the final two racks for a riveting 13-11 victory. (Photo courtesy Raya Sports)
Just a month ago, it appeared as if Yukio Akagariyama's time had come. The lanky Japanese sharpshooter blistered the field at the World 10-Ball Championships on his way into a semifinal match with Holland's Huidji See. Though See eventually took that match and the world crown, Akagariyama flashed the potential to win titles.

Little did anyone expect it'd be four weeks later. At today's final in the World 9-Ball Championship at the Al Sadd Sports Club in Doha, Qatar, Akagariyama outclassed two-time world titlist Ronnie Alcano in a slugfest final, 13-11. Managing to hold a small lead throughout the extended set, Akagariyama watched Alcano string together a pair of racks to knot the match at 11.

But the Filipino would not be able to overtake Akagariyama, who climbed on the hill then broke and ran the final rack for the victory.

For Akagariyama, though, surviving close calls was the usual order of business for his championship run. He easily advanced out of the group stage, but the 64-player knockout round spelled heavy drama. Akagariyama dispatched Filipinos Carlo Biado, 11-8, and Vicenancio Tanio, 11-10, to earn a spot in the semifinal round.

There, he had his hands full with Englishman Mark Gray, who put together a momentous comeback with his Japanese counterpart on the hill. But in the case game, Akagariyama calmly cleared the table for a spot in this afternoon's final.

While the crowd, bolstered by a contingent of Filipinos working and living in Qatar, was decidedly pro-Alcano, Akagariyama proved the better player today. His first world title, and the first for his country since 1998, netted Akagariyama $36,000, while Alcano settled for $18,000 in second-place monies.