Headstring News
14.1 Tourney to Knockout Phase
Sep 1, 2011, 1:11 PM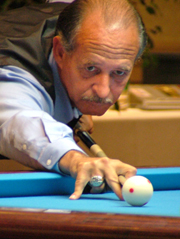 Sigel was untouchable in his first seven 100-point matches.
At the Dragon Promotions World Tournament of 14.1, Mike Sigel showed that he can still walk the walk. In the event's opening round-robin phase, the Hall of Famer went undefeated through seven 100-point matches. Not only that, Sigel shut out reigning champ Oliver Ortmann, 100-0.

But Captain Hook wasn't the only player to emerge from the opening phase unscathed. Thorsten Hohmann, Rodney Morris and Charlie WIlliams also went undefeated through the round-robin stage, where the 64-player field was divided into eight groups of eight, with the top four from each flight advancing to the 32-player knockout round.

A majority of the favorites — including Johnny Archer, Mika Immonen and Stephan Cohen — advanced easily. In addition, legends like Ray Martin and Allen Hopkins also impressed as they booked spots in the knockout bracket.

Single-elimination play, which will run through the championship on Friday, will consist of 200-point matches.

Please visit www.worldstraightpool.com for further details.