Headstring News
Souquet Nabs Sixth World Pool Masters
Sep 6, 2011, 2:36 PM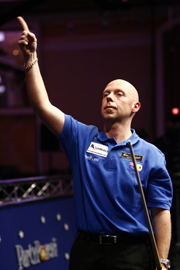 Newly elected into the Hall of Fame, Souquet still has plenty of star power.
Ralf Souquet claimed his sixth World Pool Masters title by defeating the Philippines' Dennis Orcollo in front of a packed house at the SM Mall North in Manila, Philippines. The jubilant German screamed with joy as he downed the final 9 ball, banishing a succession of heart-breaking defeats in the Philippines capital city.

He lost to Ronnie Alcano in the final of the 2006 World Pool Championship in this same city and then he and Thorsten Hohmann were narrowly beaten in the final of the 2009 World Cup of Pool at the hands of Efren Reyes and Francisco Bustamante.

Following on from his recent induction into the BCA Hall of Fame, Souquet put in two stellar performances. In the semifinal, he erased a 7-4 deficit to beat Darren Appleton before following that up with a solid performance in the final.

"It seems to be my tournament for whatever reason," Souquet said. "I've made the final eight times and won six and lost twice. It's not only a dream come true but also the icing on the cake to win it here in the Philippines.

"It's the fifth final I've played in the Philippines but the first time I've won one, which makes it all the more satisfying!"

The final was tight in the early stages. At 3-3, neither player was making the most of the break, before Orcollo nailed one in eighth game to set up a runout and establish a two-rack lead at 5-3.

Souquet scrapped back into contention at 5-5, and then produced a superb break shot that saw four balls drop and leave him a shot. From there he cleared to move into a 6-5 lead.

Souquet then broke and ran the next two racks for yet another World Pool Masters victory.

"The Philippines is the country of pool and it's where the sport is such a big thing," Souquet said. "There are so many great players like Efren Reyes, Francisco Bustamante, Dennis Orcollo, Roberto Gomez and I could go on. It's just so tough to win a tournament here.

"But it's so great here as you have so many great fans that love the sport and the players are treated the way they should be."