Headstring News
Van Boening Takes Miz Crown
Sep 19, 2011, 9:20 AM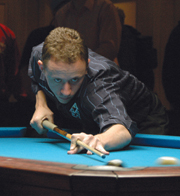 Van Boening captured his second Seminole Tour title in
Marching to the hot-seat at the Steve Mizerak Championship — the Seminole Pro Tour's season-ending, $50,000-added event — Shane Van Boening made the most of an otherwise difficult road through the 58-player double-elimination bracket. In a field full of America's best, while light on international talent, the 28-year-old matched up with his share of big-named opponents.

In just the second round, Van Boening faced current American No. 1 Mike Dechaine — and cruised past him, 9-3. He then outlasted Corey Deuel and Richie Richeson, both by 9-3 score lines, before pounding Johnny Archer, 9-4. Facing Florida's Hunter Lombardo for a spot in the final, Van Boening again dominated the set, racing to a 9-2 victory.

On the left side, Donny Mills bounced back from an earlier loss to Lombardo. Mills topped Dennis Haar, 9-3, before squeaking past Alex Pagulayan, 9-8. Just a set from the final, Mills then ousted Lombardo in third in another hill-hill affair.

In the single-set race-to-11 final, Van Boening got on the board first as he jumped out to an early 2-0 lead. But Mills then knotted things at 2-2. After Van Boening swiped six of the next seven for what seemed like a commanding 8-3 lead, Mills again responded. He collected the next half-dozen racks to square the set at 8-8. But Van Boening's wave of momentum returned, and he took the next three to polish off the victory, 11-8.

For Van Boening, the Mizerak title is his third major crown on American soil in 2011, after earlier capturing the Derby City All-Around and U.S. Open 10-Ball events.